Paul Broadhurst shoots 63 to take PGA Tour Champions lead (Jun 23, 2017)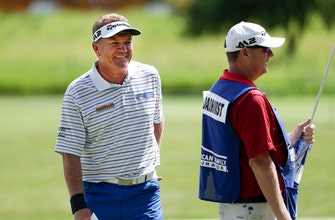 MADISON, Wis. (AP) Paul Broadhurst shot a 9-under 63 on Friday to take a two-stroke lead in the PGA Tour Champions' American Family Insurance Open.
The Englishman had an eagle and seven birdies – three on his final four holes – at University Ridge. He won the Senior British Open and PURE Insurance Championship last year.
"It's playing difficult around the front side in the wind," Broadhurst said. "I hit some really good iron shots in. For once, the putter behaved itself today. I made a few nice putts today, which hasn't happened for quite a few weeks. The putting's been the problem recently so it was nice to see the ball roll into the hole today."
Brian Henninger had a 65, and tournament host Steve Stricker joined Kenny Perry and Billy Andrade at 66.
Stricker is making his first start in his hometown event after turning 50 in February. He tied for 16th last week in the U.S. at Erin Hills.
"It was a lot of fun," Stricker said. "Running on a lot of adrenaline. These last couple weeks have been really special and really cool, and this week for the obvious reasons of being a part of this and raising money for all these good causes that we support. So yeah, it's really cool."
Fred Couples was another stroke back along with Kevin Sutherland, Corey Pavin, Stephen Ames, Brandt Jobe, Jeff Maggert and Phillip Price.
Madison player Jerry Kelly opened with a 68.
"It was fun," Kelly said. "The people were fantastic as always, and I got it going early. I got the good feelings of being in Wisconsin and playing well. It's hard to keep it up all the way through, so hopefully that was my bad nine and I can have 36 more holes of great golf."
Defending champion Kirk Triplett had a 69, and Nick Faldo shot 71. Faldo is making his first PGA Tour Champions start since 2015.
Players were allowed to lift, clean and place their golf balls in the fairways because of wet conditions.
"There was a bit of mud on the ball, so it was the right decision, no question," Broadhurst said. "I guess tomorrow it'll be ball down. I need to be careful. I had a penalty shot at the U.S. PGA had lift, clean and place when we were doing it the first day and then they stopped it and it cost me a shot, so I've got to be careful tomorrow."
You may also like...