U.S. Open local qualifying: Halfway through, hope still abounds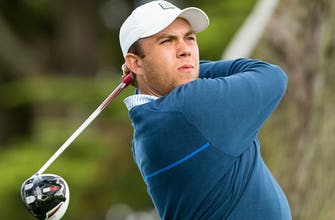 Number of local qualifiers conducted through May 11: 55
Number of competitors: 4,770
Number of sectional qualifying spots earned: 278
Low Score: 62- Hunter Stewart (5/11), Jackson (Tenn.) Country Club

Number of local qualifiers left: 59
Number of competitors slated to compete in remaining local qualifiers: 4,209
Number of sectional qualifying spots left via local qualifiers: 247
Notable players to advance: David Berganio Jr.- two-time U.S. Amateur Public Links champion; Corey Conners- 2014 U.S. Amateur runner-up; Derek Ernst- PGA Tour winner; Nick Flanagan- 2003 U.S. Amateur champion; Billy Mayfair- 1986 U.S. Amateur Public Links champion, 1987 U.S. Amateur champion, five-time PGA Tour winner; Jordan Niebrugge- 2013 U.S. Amateur Public Links champion, The Open low amateur- 2015; Davis Riley- two-time U.S. Junior Amateur runner-up
All in the Family
If Trevor Sluman manages to navigate U.S. Open qualifying this spring, he would have taken the Marco Polo route to Erin Hills.
"I love to travel," said Sluman from Beijing, a couple of days after earning medalist honors in a U.S. Open local qualifier at Mission Hills Resort & Country Club's El Campeon Course in Howey-in-the-Hills, Fla.
Logistics played a major role in Sluman's decision to choose one of the first of 114 local qualifiers. A day after shooting 69 in Central Florida, the 23-year-old flew halfway across the globe to participate in a qualifying school for an upstart tour in China, which will hold its first event on June 5, the day of the 10 sectional qualifiers in the United States.
So Sluman chose the Japan sectional qualifier in Ono City, which will be conducted on May 22.
His uncle, Jeff Sluman, nearly won the U.S. Open at Pebble Beach Golf Links in 1992, a year before Trevor was born, finishing runner-up to Tom Kite. Trevor said his uncle, who won the 1988 PGA Championship, called and congratulated him on his performance in local qualifying as he was driving back to his residence in Delray Beach, Fla. Although he is a native of Pittsford, N.Y., Trevor, who played golf at the University of Louisville, has spent the last couple of years in Florida serving as an assistant men's golf coach at Lynn University in Boca Raton. Coincidentally, Jeff took a similar path to PGA Tour stardom by starting his career in Asia.  "Seeing my uncle on TV basically every weekend really heightened the expectations I set for myself," Sluman said. "Now as a professional, I am very fortunate to have such a solid inner circle of touring pros to bounce ideas off of and make me a better player."
Tyler McCumber, whose father Mark won 10 times on the PGA Tour, carded a 5-under 67 on May 10 at La Costa Golf Resort in Carlsbad, Calif., to earn medalist honors. Marc Turnesa, the great nephew of two-time U.S. Amateur champion Willie Turnesa, was the co-medalist in the Hollywood, Fla., local qualifier on May 11, shooting a 68 at The Club at Emerald Hills. Meanwhile, Allen Geiberger, Jr., the son of 1966 PGA Championship winner Al Geiberger, shared medalist honors by carding a 4-under 68 on May 11 at Bermuda Dunes (Calif.) Country Club. Tyson Alexander, the son of 1986 U.S. Amateur champion Buddy Alexander, shot 3-under 67 at Farmington C.C. in Charlottesville, Va., to advance. His grandfather, Skip, finished 11th in the 1948 U.S. Open. Tyson qualified for the 2009 U.S. Open, to give the family three generations of U.S. Open competitors.
And Hayden Wood, the son of PGA Tour Champions golfer and 1977 U.S. Junior Amateur champion Willie Wood, shared medalist honors Zachary Olsen by shooting 6-under 66 at the Jimmie Austin OU Golf Club in Norman, Okla., on May 9.
Hat Trick for Horsfield?
Sam Horsfield navigated qualifying the past two years to qualify for the U.S. Open. By surviving a 4-for-3 playoff at Mission Inn on May 3, the English-born-now-Davenport, Fla., resident has a chance to do just that for a third straight time. Horsfield is scheduled to play his 36-hole sectional at the Jupiter Hills Club in Tequesta, Fla., on June 5.
As the No. 3 player in the World Amateur Golf Ranking™, the University of Florida sophomore could have bypassed local qualifying. Horsfield, however, announced earlier this year that he is turning professional following the NCAA Championships at Rich Harvest Farms in Sugar Grove, Ill. His exemption through local qualifying can only be used if he remains an amateur. Now, if he does get to Erin Hills, he can play as a professional.
You may also like...